Newport County AFC
Newport Stadium, Stadium Way, Newport International Sports Village, Newport, NP19 4PT Tel: 01633 662262


History: County have had a rollercoaster history, from the European Cup Winners Cup to going out of existence, being forced to play miles from home and starting again at the bottom. After a false start at the end of the 19th century, County were formed in 1912, originally known as Newport & Monmouth County AFC. After starting in the Southern League, they joined the expanded Football League in 1920, but were voted out in 1931 for a season. They won the Third Division South in 1938-39, but with typical misfortune Adolf Hitler intervened. After the war, they hit the buffers, including a 13-0 defeat at Newcastle in Division Two, although they beat the Geordies 4-2 at home. They were relegated to Division Four in 1961/62 but after nearly two decades in the basement division, revived under managers Colin Addison and Len Ashurst. 1981 saw Welsh Cup winners County reaching the quarter-final of the European Cup Winners Cup, but they lost to East German side Carl Zeiss Jena to end a great run. They also missed out on promotion in 1983 before becoming the second team to drop out of the Football League in 1988, before financial problems led them to be expelled from the Conference. The new club, Newport AFC, was formed in 1989 but they were forced to play home matches in the Southern League Midland in Gloucestershire due to a dispute with the blazers at the Welsh FA. They moved to a new ground in 1994 and by 1999 were playing under the name Newport County AFC. They finally fought their way back into the Conference under Dean Holdsworth in 2010, before he left for a League job with Aldershot in December, and was succeeded by Spurs youth coach Anthony Hudson (whose first match in charge is against Darlo). Newport have since struggled, although new manager Justin Edinburgh has taken them to the FA Trophy final at Wembley in May.
Record Attendance: 4,221 Havant & Waterlooville (March 2010), 4,616 v Swansea City (FA Cup 1, 2006)
Capacity: 4,700
Last season: 9th
Honours: FAW Premier Cup Winners (2007/2008), Conference South champions (2009/2010)
Record victory: 8-0 Ruislip Park (Feb 1990)
Defeat: 1-6 Stafford Rangers (Jan 1996)
Nickname: The Exiles, The 'Port.
Colours: Amber and Black
Manager: Justin Edinburgh
Chairman: Chris Blight
Players in: Tommy Doherty, Craig McAllister, Danny Potter
Players out: Nathan Davies, Martyn Giles, John Challinor, Christian Smith and Kerry Morgan
Famous fans/connections: John Aldridge and Tommy Tynan (players), Colin Addison and then Len Ashurst (managers).

Click for Streetmap of ground
Admission Prices 2011/2012: Adult £14, Concession £10, Under 16 £5, under fives free. Includes away open seating. Llast season, we were given the far corner of the grandstand, rather than the usual visiting section of the terrace opposite - with prices there £14 adults, £10, £6 and £4. Slightly bizarrely, we had to walk right round the ground to the away entrance by the terrace, then around the running track to reach the stand, completing more than a 400m in the process. For those with long memories, Newport no longer play at Somerton Park (now housing) but an athletics stadium on the edge of town, a short drive from the city's most famous landmark, the Transporter Bridge. You can be assured of a warm welcome in the"club house", Bar Amber, in a separate building from the main stand, with a busy but well-run bar and excellent value food.
From the North: (Darlington 268 miles) You're recommended to save your money on the Severn bridge and take the quicker and cheaper route - leave at junction 8 of the M5 south of Worcester and join the M50, next to the services, and then the A449 dual carriageway through Ross-on-Wye and Monmouth, until you come to the junction with the M4 (Coldra). Instead of joining the M4 (the right lane for Newport and Cardiff), come around the island and take the third turning. Look out for the brown signs for the Newport International Sports Village, which is where you need to go. Follow the dual carriageway (A48) around various roundabouts, passing retail parks, for about two miles (you pass a KFC and car showroom, which tells you, you're close). You come off the road at Car Craft on a left turn and there is a free car park at the stadium - usually plenty of room if you're early enough..
Darlington FC Supporters' Club
Coach £TBC Contact: 01325 243911 Payment for each coach trip must be either paid for in full before travel, or a 50% non-refundable deposit paid in advance. Anyone wishing to travel on the coaches must join before the day of travel.
Dragon Taxis Tel: 01633 216 216
Globe Taxis 01633 253 753
New Town Taxis 01633 253 253
It's a good three miles from Newport station, so you really need a cab or a bus. It's a five minute walk to bus station (which is over towards the river). From the railway station (via underpass), turn left at end of street, keep on straight and pass between the Principality building society and Vodaphone (on Skinner Street) and then turn into Upper Dock St, the bus station is off to left. Take either No 9 or No 16 bus from stand 23 (approx 15 minute bus ride).
National Express coach services run from Birmingham and London Victoria into Newport. There is a 03.15 (arr 06.20) service back to London.
Train times (Times to be updated)
Darlington:
Birmingham New Street: Returns from £25.
London Paddington: Returns from £31.50.
Pen and Wig, 22-24 Stow Hill, NP20 1JD
This city centre freehouse just up a hill off the high street (just over five minutes walk from the station) has improved greatly its real ale choice since our previous visit, with three or four beers to choose from, and a friendly welcome. There was an excellent beer from the Kite Brewery in Carmarthenshire on a recent visit at just £2 a pint. DAFTS recommended
Old Murenger House, 53 High Street
There's not a lot of real ale in Newport and all there is, is is within a short walk of the station. This old fashioned Sam Smith's pub in the city centre is in a building believed to date back a few hundred years. Nice old dark, historic pub inside, friendly with well kept Sam Smiths (around £2.20 a pint) and a wheat beer alternative. No football tops. It's an easy 2 mins walk from the station - turn left at the entrance and take the pedestrian crossing over the dual carriageway (before the NCP carpark ahead) and walk into High Street, right around the corner and the pub is on the right. See also DAFTS recommended.
Red Lion, 47 Stow Hill
A long-established Camra pub, with guest ales and Ushers. A short walk from the station.
John Wallace Linton pub, Cambrian Centre, Cambrian Road
This Wetherspoon's can be found more or less opposite the station - turn left out of the entrance and over the dual carriageway and the pub is a short walk in Cambrian Road. The usual fare - on our visit, only two ales on.
The Queen's Hotel, 19 Bridge Street, NP20 4AN
Victorian listed hotel which has a Lloyds/Wetherspoons pub, a relatively new development and close to the station. Click for streetmap
The Tom Toya Lewis, 108-112 Commercial Street, NP20 1LW
Another of the Wetherspoons options in the city centre.
At the ground, in one corner is the clubhouse Bar Amber, which welcomes away fans (admission charge) and serves food. No real ale but an efficient bar.
Other than that, the DAFTS recommendations is to drink in Cardiff, which is 15 minutes on the train, with much improved real ale options in the city centre, compared to a few years back. There is the city's CAMRA pub of the year for 2012 in The City Arms in Quay Street (off Westgate St, opposite the Millennium Stadium, six or seven minutes walk from the station). Although a Brain's pub, it also unusually has at least six regularly changing ales on, some from the barrel, as well as a couple of real ciders. One of Cardiff's oldest surviving pubs, it is a dark, characterful boozer, with old rugby photos adorning the walls. Just around the corner, there's the modern Zero Degrees in 27 Westgate Street (short walk to station too), which has its own brewed beers and also serves pizza. The Duke of Wellington at the end of Caroline Street, which has comfortable leather sofas, well-kept Brains and also always one guest ale, The Rummer (opposite the castle, 14 Duke St), a half-timbered historic inn has Wye Valley beers as regulars, while the Owain Glyndwr, 10 St John Street is also worth trying. Further to walk is The Pen & Wig, 1 Park Grove, Cathays (CAMRA pub of the year 2010).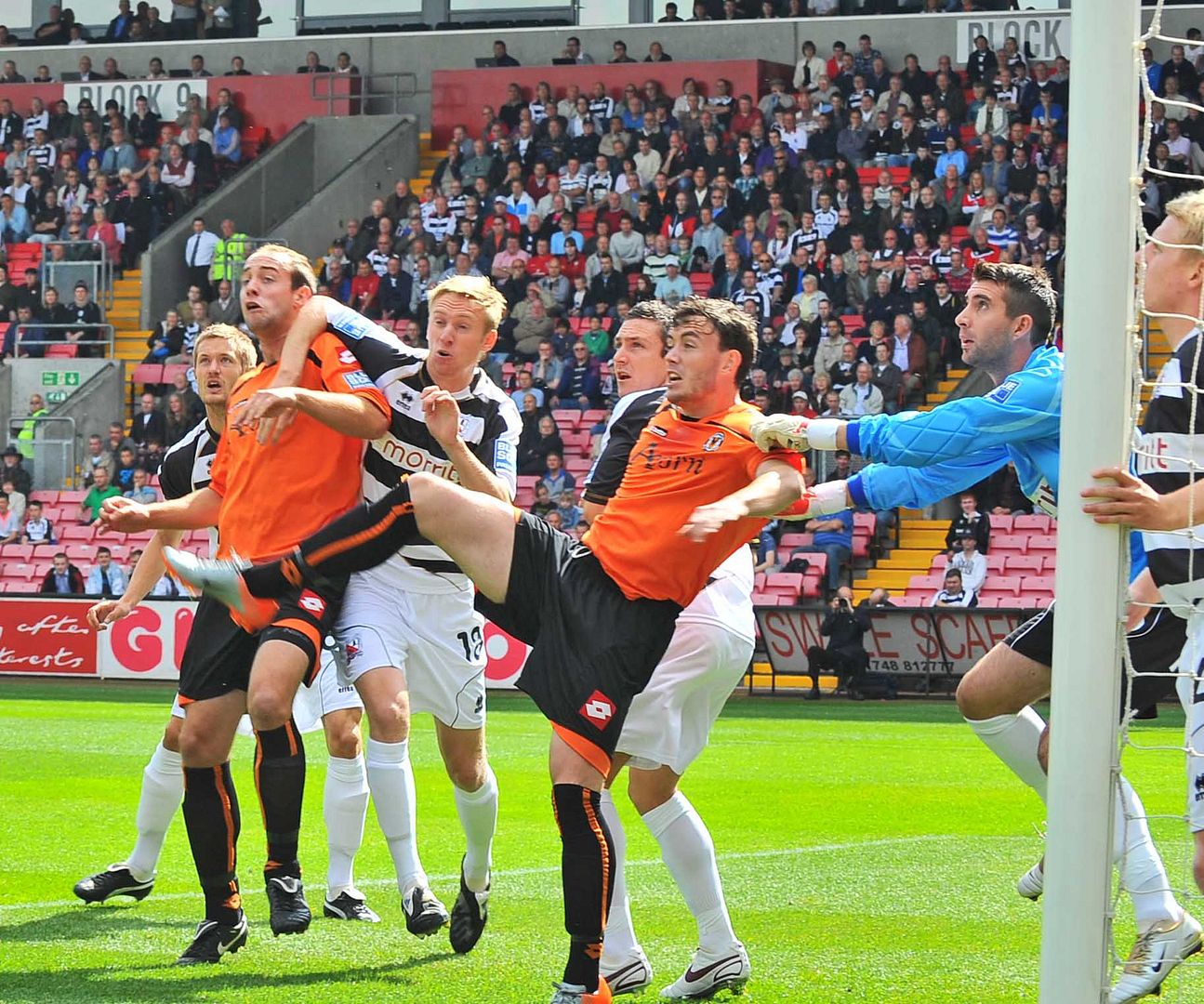 The Official site is well maintained, including video highlights of home matches.
© Photos: Ted Blair
Apart from welcoming Darlo, Newport is currently celebrating being host city of that other sporting event, the 2010 Ryder Cup. The place is getting a bit of a spruce up, especially near the riverside, which already has a new arts centre. If you see an American in a Pringle sweater, they've obviously lost their way, as they should be at the five star Celtic Manor Resort, which towers above the approaches to Newport, off the M4 like Dracula's castle.
Next away matches:
Forest Green Rovers (Sat 21st April, last away match of season)